JANUARY 20 – 28, 2018
The third annual Alley All New Festival featured new work from some of the most exciting playwrights writing today. Learn more about the plays in the 2018 Alley All New Festival below.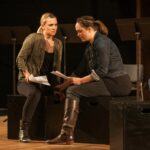 CINCHED AND STRAPPED
Staged Reading
By Selina Fillinger
Neuhaus Theatre
From a posh nineteenth century dinner party to a war over resources in a dystopic future, Cinched and Strapped explore gender and rebellion through the ages. Bawdy and brutal, these paired plays question who will make the rules in a fast-approaching new world
learn more about cinched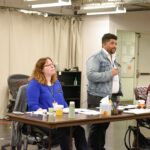 (END OF MESSAGE)
Reading
By Laura Jacqmin
Neuhaus Theatre
When the milestone date on their new video game is suddenly moved up, a diverse team of game developers camps out at the office for seven straight days. Exhaustion sets in, tempers flare and modern day work place grievances rise to the surface.
learn more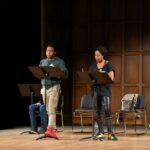 PUT YOUR HOUSE IN ORDER
Reading
By Ike Holter
Neuhaus Theatre
In only 24 hours, a first date turns into a life shaking adventure as two people are thrust into circumstances outside of their control. Equal parts romantic comedy and old school thriller, Put Your House in Order explores new beginnings at the end of the world.
learn more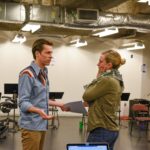 QUACK
Reading
By Eliza Clark
Neuhaus Theatre
Irving Baer's daytime health and wellness show is watched by millions of women. When Dr. Baer is implicated in a national health crisis, his career and marriage suffer. But if Irving Baer is falling from grace, he's not going down alone.
learn more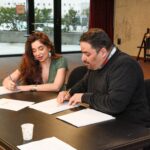 QUEEN OF BASEL
Reading
By Hilary Bettis
Neuhaus Theatre
Set during Art Basel, Miami's decadent annual festival, this bold, contemporary take on Strindberg's classic Miss Julie follows a party queen after she is humiliated at her father's hotel when her fiancé publicly dumps her. Julie refuses to let the night end unless it's on her terms…
learn more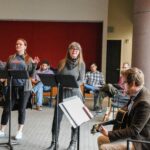 TENDER MERCIES
Reading
Adapted for the Stage by Daisy Foote
Based on Tender Mercies Written By Horton Foote
And by Special Arrangement with Studiocanal
Neuhaus Theatre
Daisy Foote adapts Horton Foote's Oscar-winning screenplay Tender Mercies. Jealousy and drinking destroyed Mac Sledge's marriage and his country music career. Then he meets Vietnam widow Rosa Lee Wadsworth at her Texas roadside motel. Their dare for a second chance tests faith and love in this powerful story of human endurance and forgiveness.
learn more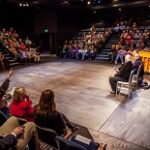 EARLY DRAFT PREVIEW: Glen Berger & Claire Kiechel
Neuhaus Theatre
Excerpts from new plays in development at the Alley by Glen Berger and Claire Kiechel. Leslie Swackhamer, Executive Director of the Susan Smith Blackburn Prize, announced the finalists for the 2018 Susan Smith Blackburn Prize.