OWN YOUR COPY OF ALLEY THEATRE'S 75TH ANNIVERSARY BOOK.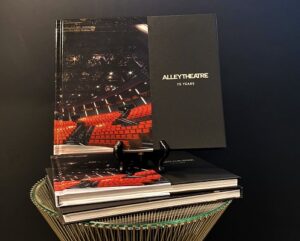 This limited edition hard-cover book features beautiful photography and artwork from the past 75 seasons, including a full list of productions and artists. It is the only printed book on the history of Alley Theatre.
Turn the pages of this special coffee table book and read how Alley Theatre is one of the original and most historically significant regional theatres in America.
Learn how your Alley has launched innumerable careers and major world premieres, anchors Houston's vibrant theatre scene, and is the artistic and professional home for generations of Alley Company members on and off stage.
Copies of this book were given to guests at last year's Gala. A limited number are available for sale for $55.
Purchase your copy online and pick it up at Guest Services when you see your first show, or call 713.220.5700 and pick it up any day from noon to 6:00 p.m.
Price: $55.00