UNTITLED HORSE PLAY
By Hilary Bettis
Hometown:
I moved a lot growing up. Here's a list of states: South Carolina, North Carolina, Georgia, Colorado, Minnesota, California, New York
---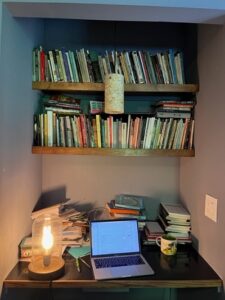 SYNOPSIS:
A love letter to rural girls who are so often invisible. A love letter to the horses who saved our lives and taught us to be women. A love letter to my mom who always did her best, even though I couldn't see it. A new play by Hilary Bettis (72 miles to go…, 2019 Alley All New Festival and 2021 production).
INTERESTING FACT:
I still ride horses (although probably not a surprise).
WHAT ADVICE WOULD YOU OFFER EARLY CAREER WRITERS?
Focus on writing. The career will come as a byproduct of your writing. Learn what your unique process is. Learn how to push through the boredom, the insecurity, the fear. Writing is 90% agonizing discomfort and 10% magic.
What AUDIENCE ARE YOU HOPING TO CONNECT TO WITH THIS PIECE?
I hope this piece connects with anyone who's felt lost and invisible; anyone who's felt shame; anyone who's felt like their life isn't enough; anyone who loves horses.
---