Ambassadors International Ballet Folklorico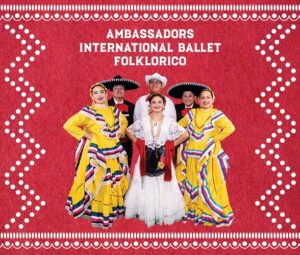 Ambassadors International Ballet Folklorico is a non-profit 501(c)(3) dance  organization that was founded in 1979 by one of its original founders and  current Executive Director, Mrs. Nelly M. Fraga. A.I.B.F. proudly represents  one of the few dance organizations that has an international dance  curriculum consisting of dances from the countries of Argentina, Panama,  Peru, Venezuela, Nicaragua, Spain, Ecuador, Colombia, Mexico, El Salvador,  India, Bolivia and the state of Texas. And with every passing year, the  international list of dances from other countries that are taught to the AIBF  dancers continues to grow. The love, dedication and commitment to  preserving the Hispanic culture and the cultures of all these other countries  through song and dance is taught to our young dancers starting at age 5.  The 2023/2024 dance season marks the 45th anniversary, that AIBF has been  sharing its love for the Hispanic culture and for the cultures of many other  nations to the young generations, community, and to all the general public.  Through the passionate commitment from the dancers and their parents,  volunteers and staff, Ambassadors International Ballet Folklorico will  continue to share this love of dance for many more years to come.
Performance Dates:
Sunday, September 24 at 7:00 p.m.
Sunday, October 15 at 7:00 p.m.
Booking Information:
ambassadorsibf@hotmail.com
832.858.0879