Artistic Director's Reflections on the Alley's Production of A Christmas Carol
---
by Rob Melrose
Artistic Director, Alley Theatre
Adaptor and Director, A Christmas Carol
To create a new production of A Christmas Carol from scratch is a once-in-a-lifetime opportunity, and I am so honored to shape the Alley's new adaptation of this beloved classic. We premiered this new version last year, staying faithful to Dickens' wonderful language and filling the stage with traditional a cappella Christmas songs.
Four years ago, when I started working on my new adaptation during the first-ever Alley at Ucross Playwrights Residency, I began by reading the original novella and as many Dickens' novels as I could, like Great Expectations, A Tale of Two Cities, Bleak House, and Oliver Twist. What struck me most was the brilliance of Dickens' voice: so witty, so ironic, so funny, and so richly descriptive. I knew that I wanted to capture as much of his spirit as possible.
As a child, the onset of the Christmas season was always signaled by singing Christmas carols. Those traditional songs we'd practice in my church choir are what told me: Christmas is here! Music is an important part of Dickens' novella (it is, after all, called "A Christmas Carol") and integral to our production – the a cappella singing is the thread that pulls us through Scrooge's story.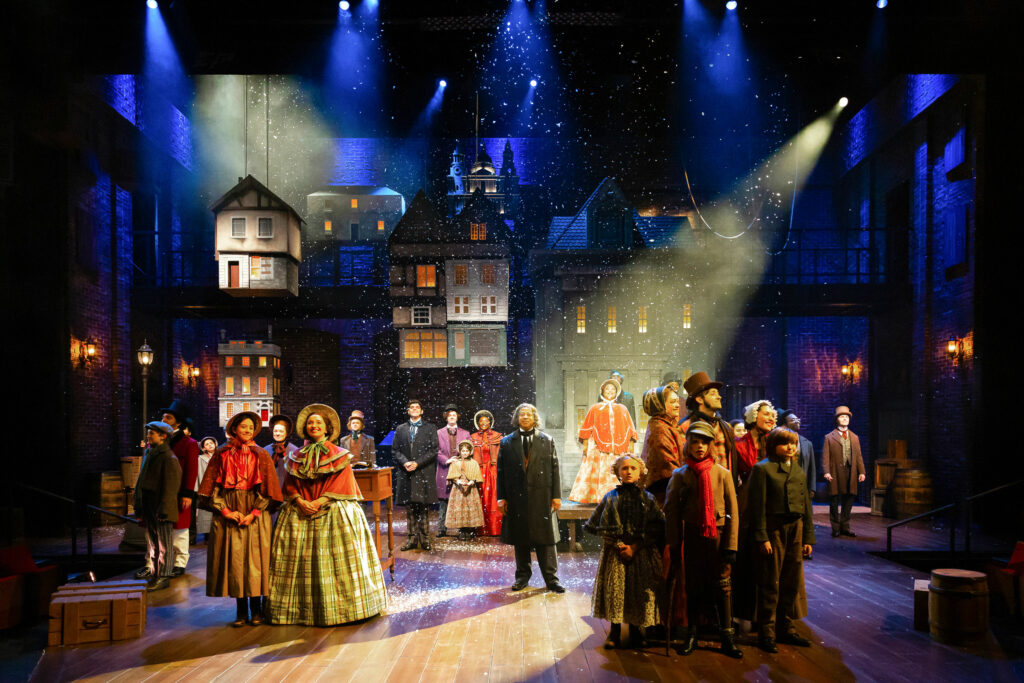 We hope that you and your family enjoy our new production of A Christmas Carol for many years to come. It has certainly been a labor of love!
---
Crear una nueva producción de A Christmas Carol desde cero es una oportunidad única en la vida, y me siento muy honrado de dar forma a la nueva adaptación de esta clásica y amada historia del Alley. El año pasado estrenamos esta nueva versión, manteniéndonos fieles al maravilloso lenguaje de Dickens y llenando el escenario con tradicionales canciones navideñas a capella.
Hace cuatro años, cuando comencé a trabajar en mi nueva adaptación durante la primera Residencia de Dramaturgos del Alley en Ucross, empecé leyendo la novela original y todos las novelas de Dickens que pude, como Great Expectations, A Tale of Two Cities, Bleak House y Oliver Twist. Lo que más me impresionó fue la brillantez de la voz de Dickens: tan ingeniosa, tan irónica, tan divertida y tan ricamente descriptiva. Sabía que quería capturar tanto de su espíritu como fuera posible.
De niño, el comienzo de la temporada navideña siempre estaba marcado por el canto de villancicos. Esas canciones tradicionales que practicábamos en el coro de mi iglesia me decían: ¡La Navidad está aquí! La música es una parte importante de la novela de Dickens (después de todo, se llama Un Cuento de Navidad) y es fundamental en nuestra producción; el canto a capella es el hilo que nos lleva a través de la historia de Scrooge.
Esperamos que usted y su familia disfruten de nuestra nueva producción de A Christmas Carol durante muchos años. ¡Definitivamente ha sido un trabajo de amor!
---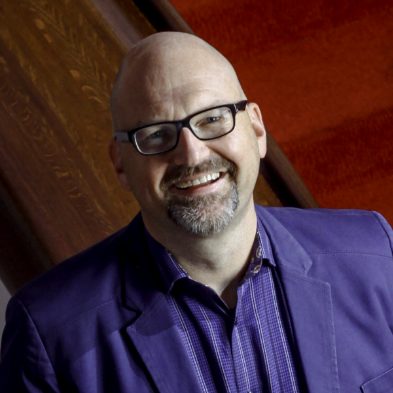 ROB MELROSE
ARTISTIC DIRECTOR
Rob Melrose is the Artistic Director of the Alley Theatre where he has directed productions of The Servant of Two Masters, Born with Teeth, Sweat, The Winter's Tale, 1984, and Agatha Christie's Murder on the Orient Express and adapted and directed A Christmas Carol. He was formerly the Artistic Director and co-founder of the Cutting Ball Theater. He has directed at The Public Theater (Pericles, Prince of Tyre), The Guthrie Theater (Frankenstein, Happy Days, Freud's Last Session, Pen, Julius Caesar – with the Acting Company); The Oregon Shakespeare Festival (Troilus and Cressida – in association with the Public Theater); Magic Theatre (An Accident, world premiere); The Old Globe (Much Ado About Nothing); PlayMakers Rep (Happy Days); Black Box Theatre (The Creature, world premiere, BATCC Award for direction); as well as Actors' Collective; The Gamm Theatre; and Crowded Fire, among others. His directing credits at Cutting Ball include Timon of Athens, A Dreamplay, Ondine (world premiere), Mount Misery (world premiere), Strindberg Cycle, The Chamber Plays in Rep, Krispy Kritters in the Scarlett Night (world premiere), Pelleas & Melisande, the Bay Area Premiere of Will Eno's Lady Grey (in ever lower light), The Tempest, The Bald Soprano, Victims of Duty, Bone to Pick & Diadem (world premiere), Endgame, Krapp's Last Tape, The Taming of the Shrew, Macbeth, Hamletmachine, As You Like It, The Death of the Last Black Man in the Whole Entire World, among others. He has taught at Stanford University, UC Berkeley, USF, the University of Rhode Island, and Marin Academy. He has a BA in English and Theater from Princeton University and an MFA in directing from the Yale School of Drama. Rob directed Strindberg's Svarta Handsken (The Black Glove) in Stockholm, Sweden at Strindberg's Intimate Theater. This was the first time the play was performed on the stage for which it was written, 110 years after it was composed. He has translated Woyzeck, Ubu Roi, Pelleas & Melisande, The Bald Soprano, The Chairs, No Exit, Communique n o10, Where and When We Died, and The Blind. His translations of Woyzeck, Ubu Roi, and Pelleas & Melisande have been published by EXIT Press. He has written a number of plays including: Helen of Troy, The Flat Earth, Divorsosaurus, When Human Voices Wake Us, Asylum, and Serpentyne and has written a rock musical adaptation of L. Frank Baum's Ozma of Oz with the San Francisco electro-rock group Z.O.N.K.