Celebrating Fearless Women in Mariachi: Breaking Boundaries with Passion and Talent 
Mariachi music has long been connected with male musicians in iconic charro suits. However, the landscape of mariachi is evolving. There is a powerful wave of fearless women redefining that narrative. These women are inspiring with their passion, talent, and unwavering valor.  
Some consider Mariachi to be a male-dominated genre.  They see women as primarily supportive roles in the ensemble. Yet, the desire to express musical talents led many women to challenge this norm. Their presence in mariachi bands grew. As the genre expanded, so did the freedom for women to claim their rightful place on stage.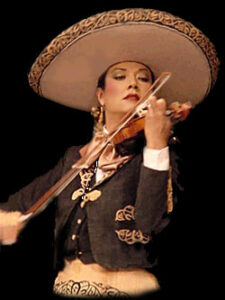 Laura Sobrino defied mariachi norms with her talent. As one of the first female mariachi players, she shattered gender barriers, inspiring countless others. The Mariachi Divas de Cindy Shea is an all-female mariachi band founded in 1999 by Cindy Shea. In 2009, they became the first all-female mariachi band to be nominated for a Grammy Award. They won, making them the first all-female mariachi band to win a Grammy. As of 2020, the band has been nominated for nine Grammy Awards, winning three. Sobrino and Shea's courage inspired a new generation of female mariachi musicians.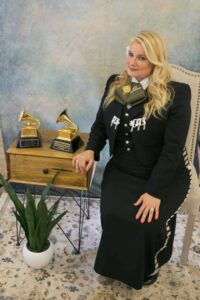 One striking aspect of the fearless women in mariachi is their group effort. They've formed tight-knit communities that provide support, mentorship, and a safe space to navigate challenges. These bonds have fostered a collective strength that uplifts all women in the genre and encourages unity. These fearless women represent diversity in their backgrounds, styles, and influences. Their unique perspectives enrich the genre, adding new dimensions to its tapestry. Their presence challenges the notion that there is only one way to be a mariachi musician.   
One of the most significant impacts of women in mariachi is the trail they're blazing for generations. Young girls who witness these women on stage are learning that their dreams are valid. They can pursue their passions without limitations. By embodying fearlessness, these women nurture a legacy of empowerment and change.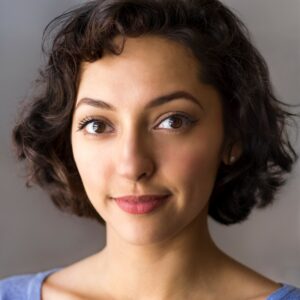 "It is a gift to play a fearless woman like Lucha, especially among a cast and crew of powerful women. I have always been drawn to and inspired by las hociconas, women who are considered too loud, opinionated, unrestrained, and who take up space," shares American Mariachi actor Gianna Digregorio Rivera. "What I admire most about Lucha is her tenacity. Despite the many challenges that she and the other women face, she continues to pursue her dream of playing mariachi. She is driven by the love she has for her family, and that love empowers her to persevere even when she is afraid. I am excited to share this journey with audiences and to honor the many fierce and talented women who have dedicated their lives to mariachi." 
---
Celebrando a Mujeres Audaces en el Mariachi: Rompiendo Barreras con Pasión y Talento  
La música de mariachi ha estado vinculada a músicos masculinos en trajes icónicos de charro durante mucho tiempo. Sin embargo, el panorama del mariachi está evolucionando. Existe un poderoso movimiento de mujeres audaces que están redefiniendo esa narrativa. Estas mujeres inspiran con su pasión, talento y valentía inquebrantable. 
Algunos consideran que el mariachi es un género musical dominado por hombres y ven a las mujeres principalmente como apoyo en el conjunto. Sin embargo, el deseo de expresar sus talentos musicales hizo que muchas mujeres desafiaran esta norma. Su presencia en los conjuntos de mariachi creció. A medida que el género musical se expandió, también lo hizo la libertad para que las mujeres reclamaran su lugar legítimo en el escenario. 
Laura Sobrino desafió las normas del mariachi con su talento, rompiendo las barreras de género como una de las primeras trompetistas de mariachi, inspirando a innumerables mujeres. Mariachi Divas de Cindy Shea es un grupo de mariachi exclusivamente femenil fundada en 1999 por Cindy Shea. En 2009, fue el primer conjunto de mariachi completamente femenino en ser nominado y ganador a un Premio Grammy, convirtiéndose en el primer grupo de mariachi femenil en ganar un Grammy. Desde entonces, las mariacheras han sido nominadas a nueve Premios Grammy, ganando tres. La valentía de Sobrino y Shea inspiró a una nueva generación de músicos de mariachi femeninas. 
Un aspecto llamativo de las mujeres audaces en el mariachi es su esfuerzo colectivo. Han formado comunidades muy unidas que brindan apoyo, mentoría y un espacio seguro para enfrentar desafíos. Estos lazos han fomentado una fuerza colectiva que eleva a todas las mujeres en el género y promueve la unidad. Estas mujeres valientes representan diversidad en cuanto a sus antecedentes, estilos e influencias. Sus perspectivas únicas enriquecen el género, agregando nuevas dimensiones a su tapiz. Su presencia desafía la noción de que solo hay una manera de ser un músico de mariachi. 
Uno de los impactos más significativos de las mujeres en el mariachi es el camino que están abriendo para las futuras generaciones. Las niñas jóvenes que presencian a estas grandes mujeres en el escenario aprenden que sus sueños son válidos. Pueden perseguir sus pasiones sin limitaciones. Al encarnar la valentía, estas mujeres alimentan un legado de empoderamiento y cambio. 
"Es un regalo interpretar a una mujer valiente como Lucha, especialmente entre un elenco y equipo de poderosas mujeres. Siempre fui atraída e inspirada por las 'hociconas', mujeres que se consideran demasiado escandalosas, con fuertes opiniones, desinhibidas y que ocupan espacio," comparte la actriz Gianna Digregorio Rivera. "Lo que más admiro de Lucha es su tenacidad. A pesar de los muchos desafíos que ella y las demás mujeres enfrentan, continúa siguiendo su sueño de tocar música de mariachi. El impulso para seguir adelante es el amor que siente por su familia, y ese amor le da la fuerza para perseverar incluso cuando tiene miedo. Estoy emocionada de compartir este viaje con el público y de honrar a las muchas mujeres valientes y talentosas que han dedicado sus vidas al mariachi". 
---
American Mariachi runs from September 22 through October 22.
learn more