Jose Ignacio Cortes "El Big Charro"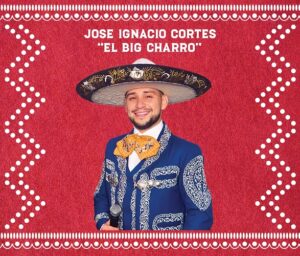 Cantante Solista de Musica Mexicana durante casi 15 años cantando en todo tipo de eventos y fiestas lo mejor de la musica ranchera/regional mexicana.  Finalista de la 5ta Temporada de Tengo Talento Mucho Talento. 
Jose Ignacio Cortes has been a Solo Mexican Music Singer for almost 15 years, singing the best of ranchera/regional Mexican music at all kinds of events and parties. He was a finalist of the 5th season of Tengo Talento Mucho Talento.
Performance Dates:
Friday, September 22 at 8:00 p.m.
Thursday, October 12 at 7:30 p.m.
Sunday, October 15 at 2:00 p.m. 
Booking Information:
elbigcharro@gmail.com 
713.538.6818 
Instagram: elbigcharro 
Facebook: Jose Ignacio Cortes