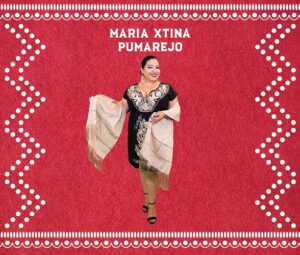 Hello, my name Maria Christina Pumarejo. I have been working in the music scene since the age of 13. I grew up in a very eclectic musically diverse family environment. I was immersed in many genres.   The very first band I was in was a Tejano group. The first paying gig was at The Guadalupe Church bazar in 1992. I was hooked after that. I loved being on stage. Not long after that I joined a mariachi group. Played with them for 6 years. Played many events but my favorite 2 locations were the Miller outdoor theater and The Astro arena. Took sometime off to enjoy mother hood for a few years. Decided to jump back in to the Tejano scene in 2011 but fate would have it. I fell into the Houston Rock Cover scene by accident. Where I fine tuned my skills and stage presence. While being a part of the music community I met and joined The super dynamic Tejano variety band. The band with no limits Grupo Vital. They have a long and rich history in the Houston music scene. I have shared the stage with some monster musicians and played the biggest festivals thanks to The Garza brothers.    A few years ago a few friends and I started a party band and named it La Vozina. Currently working on my first Tejano single. I am blessed to be able to work with some of Houston's best talent. Cant wait to share progress.   Mariachi music will always be a love of mine. It reminds of where I came from. Keeps me connected to my Mexican roots. Mariachi por vida! 
Performance Dates:
Thursday, September 28 at 7:30 p.m.  
Sunday, October 22 at 2 p.m. 
Booking Information: 
xtinalavoz@gmail.com 
832.713.1128
Instagram: xtinaylavozina 
Facebook: xtinaylavozina 
TikTok: @mariaxtinapumarejo