Murder By The Book Discussion with Mark Shanahan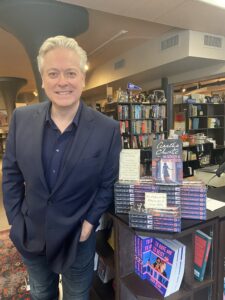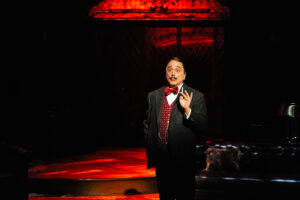 Mark Shanahan, adaptor and director of Agatha Christie's The Murder of Roger Ackroyd, discussed this new adaptation and his love of Agatha Christie at Houston's Murder By The Book bookstore. Here are some of the insights he shared:
There was a summer in my youth when I found a cardboard box at a yard sale with a million paperbacks. I bought some of those books that you cracked open, and they changed your life as a reading experience, and one of them was Agatha Christie's The Murder of Roger Ackroyd. I've loved this book for a long time. It put Christie on the map. She became a wonder.   
It is a wonderful book. Once you finish it, you go back to the beginning to figure out how she did it. I love the puzzle, I love the pieces. The truth is that what I love about a Christie isn't so much the whodunit. It's the characters you meet along the way as they are in dangerous situations. Christie lets you know everyone has a secret and is guilty of something. There are so many kinds of people in the English caste system that you'll meet. As well-behaved and civilized as these people might be, they can do wicked deeds. She's trying to sneak in, "Beware of whom you're standing next to." That someone might be lying to you, that there are things to mistrust.   
Every page of the book is dripping with the idea of not trusting any character. It's dripping with discontent with the world, and Poirot speaks on that to some extent in the story. Poirot tells all the suspects, "Every one of you in this room has a secret that you think you can hide, but I will know the truth, just in spite of you all."   
Agatha Christie's The Murder of Roger Ackroyd has a fascinating lore in Christie's playwriting history. In the late 20s, she signed away the rights and Michael Morton wrote a play called Alibi. There's so little resemblance to the novel that you can't really say it's an adaptation. All the good things about the story itself are not in it. Christie saw it and hated it. She just loathed it. So she sat down, became a playwright, and wrote Black Coffee, her only play with Poirot in it. If you look at The Mousetrap or Witness for the Prosecution, Poirot is nowhere in it. She found that in her love-hate relationship with a character. If she took out the character it freed up real estate for one more person who might have done it. And I understand what she means in some respect. As I wrestled The Murder of Roger Ackroyd to the ground, I understood what she meant. But I have an affinity for Hercule Poirot, that she was sometimes trying to get away from him, and I love the character. I think he's fascinating. 
I love the fact that Poirot is retired. It's funny that Christie had this love-hate relationship with him throughout her life. She tried inventing other characters, but the public kept asking for Poirot. Ultimately, she made her peace. During World War II, she took the time, and she wrote Poirot's final novel. It went in a vault, so it wasn't published until the time of her death. She went out with him.  
In Agatha Christie's The Murder of Roger Ackroyd Poirot has retired to the village of Kings Abbot. I think that he retired in 1910 from the Belgian police force. That's about all we know. He mentioned his sister at one point, but he could be lying about that. Poirot has no background. Why is he always there with the murderers? So, even as I was adapting Agatha Christie's The Murder of Roger Ackroyd, I thought, "Why is he here?" And "What can he do for us as a piece of theater, not just in the book." You really have to invite him into the space, into the room. Working in a theater is an entirely different beast than sitting down to craft a novel. And the question is, "Why?" Anything you write on a page, you have the danger of an actor coming up to you and asking, "Why do I say this?" You better be ready to know why.  
I wrestled with how to take this book and figure out how to turn it into a play. On a subway ride, it suddenly came to me how to do it. For a week and a half, I sat down and wrote a draft. While looking at the book, I got a red pen on every page, taking things I thought would be good. Things that I want to keep, characters that are in the book that are not in the play and that can be transformed and consumed into another character, like a backstory of three characters that can form into one in the play. With all of this, I figured out how all those pieces of the puzzle would work.  
I set the play at Ferney Hall, a location in the book. But not everything in the book takes place there. They go all over the place. Part of what I love is Christie's parade of characters, each one of them with a secret who enters the house and tells you something about themselves. I wanted to keep it in the house.  I added one line that says, "Ferney Hall is a wonderful place in our town, a beautiful mansion on a hill that seemed like it had always been there and always would be ever always looming." It would be like the opening of Rebecca, where the mansion is always on stage, but we're going to take you to other places.  
It's such a thrill and an exciting thing to be not only back at Alley Theatre but also to do this story that I love.