Puppet Design
by Houston's Own Afsaneh Aayani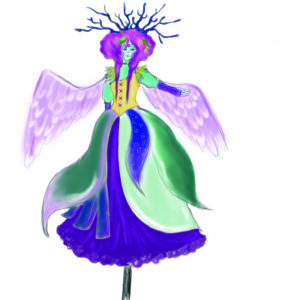 A Christmas Carol is a beautiful story. It's a heartwarming story. It's also a very familiar story. When audiences enter the theatre, they have a strong set of expectations for what they are about to see. This is why I was so excited when Rob Melrose asked me to design puppets for his new production— it gave me an opportunity to do something that's never been done before. The ten puppets I've designed for this show are only on stage for a few minutes, but I'm hoping that the audience will remember them for the rest of their lives. They're going to be unique, colorful, beautiful, and magic—pure magic. The majority of the puppets will represent characters that have never appeared in staged versions of A Christmas Carol, but who are referenced in the original novella by Charles Dickens.
In our early conversations, Rob described fast-moving puppets that could float gracefully around the space. My immediate instinct was to create Chinese rod-style puppets. These are 2 ½ – 3 feet tall puppets, operated by actors using metal rods. They can move quickly, they're easy to operate, and—most importantly—they are large enough to be seen from the back of a large auditorium like the Hubbard Theatre. Smaller puppets like marionettes or tabletop puppets would be swallowed by such an overwhelming space. Once we settled on this style, I created some renderings (pictured here). These renderings were then handed over to the Alley's Props Department. From there, the construction of the puppets is quite similar to the process for any design element. The fantastic artists at the Alley build the puppets in their in-house shop. I hope the audience has as much fun with these puppets as I had creating them. You're going to see some new faces, and some familiar characters reinterpreted in radically surprising ways. It's my goal to make sure that even if you've seen a hundred versions of A Christmas Carol, you come away from this new production with a renewed sense of the excitement, the vibrancy, and the magic of this timeless story.
Choreography
by Christopher Windom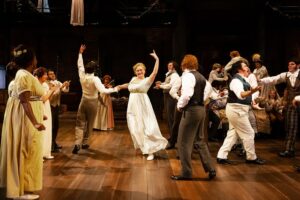 As choreographer, my contributions to this new production of A Christmas Carol will be to create and shape story moments that are expressed through movement or dance. The overall aim is to stay true to any historical references of how dance or movement may have been executed in the specific time period and location of the story  — 19th Century England — while also appealing to the sensibilities of a modern audience.
Be it a frolicking moment like the social dance Sir Roger de Coverly, danced by the Fezziwigs, or a more sentimental occasion like gathering and singing at Fred's party, we want to see characters embody music and movement in a way that deepens the meaning of each moment, and moves us into the next event of the story in a way that is both compelling and exciting.