by Elizabeth Coen, Research Dramaturg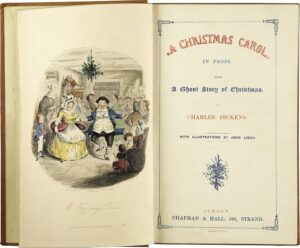 As the author of A Christmas Carol and many classic novels including Oliver Twist, Nicholas Nickleby, and A Tale of Two Cities, Charles Dickens (1812-1870) is known chiefly for his literary accomplishments. But in his time, Dickens also enjoyed fame as a notable public speaker. He was a champion of the arts and social causes, especially the welfare of children. Therefore, organizations such as the Artists' Benevolent Fund and London's Hospital for Sick Children clamored to engage him for their philanthropic events. He had an exceptional ability to appeal to the hearts and minds of his listeners, encouraging those with means to give, and to give generously. During the winter months when warm coats and shelter proved a necessity, his pleas took on greater urgency. While we might think of the holidays in Victorian England as filled with bountiful feasts and meticulously decorated Christmas trees, many families struggled to put food on the table. Indeed, Dickens wrote during a period of rapid population growth and agricultural blights. Because the economy became reliant on industrialization, it was not uncommon to see children working in factories. At the age of twelve, Dickens himself labored in a shoe blacking factory, labeling bottles to support his siblings and mother while his father served time in debtor's prison.
Never losing sight of the extraordinary wealth disparities that existed in his country, Dickens wrote A Christmas Carol as journalists and artists led a growing social campaign to promote charity during the Christmas season. In fact, the very first Christmas card, designed and sold in a London printshop the same year that the novella was published, made a strong appeal to those who would send and receive season's greetings by mail; an affluent family occupies the center of the card, flanked on each side  by drawings that depict "Clothing  the Naked" and "Feeding the Hungry." With his A Christmas Carol, Dickens likewise sought to elicit thoughts of goodwill and charity, but he also aimed to enchant his readers with a fantastic tale of transformation. After a harrowing encounter with three spirits, a miserly businessman named Ebenezer Scrooge is filled with the joys of Christmas and finds redemption by being generous to others. For many wealthy readers, the story inspired compassion. For those struggling, it provided hope.
Within a year of A Christmas Carol's publication in 1843, at least eight theatrical stagings of the novella appeared in London. According to Dickens' friend and biographer John Forster, these early productions "multiplied remorselessly at every theatre," and departed repeatedly from the source material's intent. Thus, Forster writes, Carol adaptations became the "subject of [incessant] complaint" by the author. Yet Dickens must have had some inkling that his beloved tale of Ebenezer Scrooge, Bob Cratchit, and Tiny Tim would inspire countless dramatizations. For several years, he served as Chair of the General Theatrical Fund, which raised money to support actors' healthcare and retirement. He met regularly with theatre managers to discuss the issues of the day, wrote plays, and occasionally performed as an actor in amateur productions. His affinity to the stage was strong and it emanated in the dialogue and fanciful settings that magically transported Scrooge from his bedroom to the Cratchit's home and then out to sea in A Christmas Carol. This theatricality also shined when Dickens would read his text before large crowds of captivated spectators.
In the 1850s, Dickens received numerous invitations to read A Christmas Carol in the auditoriums of town halls and educational institutions. Thanks to his insistence that venues offer subsidized tickets, these readings often brought wealthy and working-class families together. With audience counts upwards of a thousand, newspaper reporters marveled at Dickens' capacity to transform a raucous assembly hall into what felt like a fireside chat. His opening remarks at a reading in 1854 give us some indication of what he hoped you might experience at A Christmas Carol.