By Jesse E. Rodriguez
Houston artist Jesse E Rodriguez tells the story of one of his newest paintings, inspired by his grandmother's childhood fascination with the traditional costumes worn in the bull ring.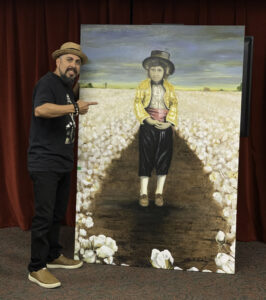 Jesse's grandmother Benita was 6 years old when she came to Texas from Guanajuato Mexico. Benita and her parents settled in Rosenberg, Texas on a cotton farm. 
Benita always loved when the annual clothing wagon would roll into their cotton farm. She eagerly awaited the moment when she could dig through the wagon's contents and uncover the most amazing outfit. This year was no different, and Benita was determined to find something truly special. 
Climbing into the wagon, she rifled through a pile of black, brown, and grey, clothes–but nothing caught her eye. Just when she was about to give up hope, she saw a small glimmer at the bottom of the pile. It was a beautiful Torera jacket that sparkled with gold, and it looked magnificent. Along with this chaquetilla, she also pulled out velvet pants and a silk shirt. 
Benita was overjoyed and ran to her mother, shouting with excitement. Her parents, however, warned her about the Torera outfit, reminding her that she would have to wear it all year long. But Benita was unafraid, nodding her head with excitement and a determined look in her eyes. 
Her mother went to work, hemming the pants and turning the silk shirt into a cummerbund. When Benita finally put on her magical finding, she felt transformed. She wore the Torera outfit with pride, strutting around the farm like a bullfighter. The jacket represented more than just a piece of clothing; it was a symbol of strength and resilience, of daring to stand out in a world that often tried to dim her light. 
Years later, Benita's memory lives on through Jesse's incredible art piece. The Torera jacket is depicted in all its golden glory, a stunning tribute to the young girl who dared to dream big and stand out in a crowd. And the painting is a testament to the enduring legacy of Benita and the remarkable journey that she and her family embarked on. 
This art piece is a celebration of the human spirit, a reminder that our stories and traditions are precious and deserving of preservation. It's a tribute to the strong and courageous women who came before us, and a call to action to keep their legacies alive for generations to come. 
---