By Armando Urdiales
"Senoras y senores! Muchachos y muchachas! Introducing the bravest woman in all of Mexico! As swift as the wind, as dazzling as the morning sun! The one, the only, Elena María Ramírez!"  – Scene I, Torera 
Women have been participating in bullfighting since the early 1900s, but it wasn't until the 1980s that they began to gain more recognition. Women such as Cristina Sánchez, Lupitz Lopez, and American celebrity turned bullfighter Bette Ford have been at the forefront of this movement, breaking barriers and proving that women can be just as skilled as men in the arena. 
Lupita Lopez
Lupita Lopez is a renowned female bullfighter who has made a name for herself in a male-dominated sport. Born in Mexico to a family of bullfighters in 1985, Lopez knew from a young age that she wanted to become a bullfighter. Despite opposition from family and friends, she pursued her dream and became an inspiration for many women around the world. 
Lopez's father was a famous bullfighter, and she grew up watching him perform. From a young age, she was fascinated by the sport. Her grace and precision mesmerized crowds as she expertly dodged the bull's charges and executed perfect passes with her cape. Soon, Lupita was a rising star in the bullfighting world, attracting the attention of fans and critics alike. Today, Lupita is regarded as one of the greatest bullfighters of her generation, a true testament to the power of hard work and perseverance. Her accomplishments include being the first woman to perform in the Plaza Mexico, one of the largest bullrings in the world, and winning the prestigious "La Oreja de Oro" award for her outstanding performance. She has also been featured in various documentaries and television programs, helping to raise awareness about the sport and inspire others. 
Cristina Sanchez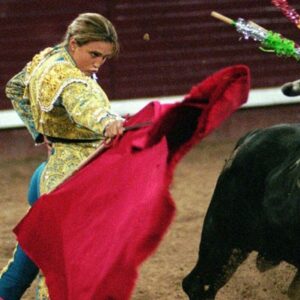 Cristina Sanchez grew up in a family with a rich history in bullfighting; her father, grandfather, and great-grandfather were all bullfighters. She began training at a young age and made her debut in 1990 at the Plaza de Toros in Las Ventas, Madrid. She quickly gained recognition for her bravery, elegance, and precision in the ring. 
As her fame grew, Cristina continued to push herself to new heights. She experimented with new techniques and strategies, always striving to improve her performance in the ring. In addition to her rigorous training regimen, she also became an advocate for animal welfare, recognizing the controversy surrounding bullfighting and using her platform to promote more humane treatment of the animals involved. In 1993, she became the first female bullfighter to participate in the prestigious Feria de Abril in Seville, Spain. She has also fought in other major bullfighting events such as the San Isidro Fair in Madrid and the Fallas Fair in Valencia. Her performances have earned her numerous awards and accolades. 
Bette Ford: From One Fame to Another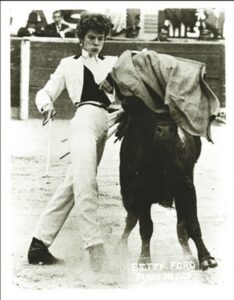 Bette Ford was born in Texas in 1927, and she was fascinated by the culture of bullfighting from a young age. After achieving fame as a professional model and actress, Ford became fascinated by bullfighting during a trip to Colombia. Despite the fact that bullfighting was, at the time, a largely male-dominated sport, Bette was determined to pursue her passion. She started training and participating in amateur bullfighting contests in the 1950s, facing opposition from both the public and her family. 
Bette's success as a female bullfighter had a profound impact on the sport, inspiring other women to follow in her footsteps. She became a mentor to many aspiring female bullfighters, helping them to navigate the challenges of entering the sport. She is also remembered as the first American woman to fight on foot in the Plaza México.