Crafting the Visual Identity of American Mariachi – A Conversation with Alley Theatre's Senior Graphic Designer, Francisco Delgado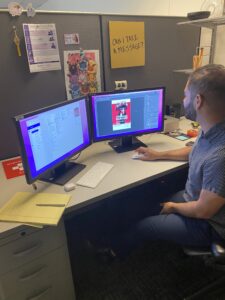 Senior Graphic Designer Francisco Delgado working on the show art for American Mariachi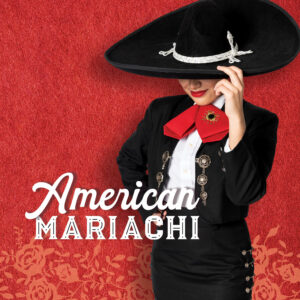 We chatted with Francisco Delgado, Alley Theatre's Senior Graphic Designer, about the graphic design process for our upcoming production of American Mariachi.
What were your initial thoughts and ideas for the graphic of American Mariachi?
After reading the script for American Mariachi, I wanted the poster artwork centered on a strong female image in a Mariachi outfit. The story focuses on Lucha trying to become a musician. This was something that was not normal especially since the genre of music was and still is dominated by men. We tried several poses for the poster. The image used for the graphic was perfect because it represents any woman that shares the same dream as Lucha.
Tell us more about using Lucha in the show graphic.
I wanted to represent the character of Lucha as the main figure in the poster. I wanted the female representation to connect with other women who either are currently mariachis or share the same dream. Out of the many shots from the photo shoot, I think this pose was best to transmit the courage, strength, and grit of what it means to be a woman mariachi musician.
What was your favorite part of creating the American Mariachi graphics?
My favorite part of the process of generating the artwork was definitely playing with the typography of the title. Typography is used to create the title treatment. The title treatment is the first thing our audience uses to learn about the story. I wanted to combine and play around on how to represent two very different cultures best. The title itself is beautiful. It magically lends itself to blending two different cultures. I took an Americana-styled typeface and combined it with a traditional Mexican-styled typeface blending both cultures perfectly.
Do you have any particular steps you do when taking on a graphic project?
Usually, I start by reading the script. This helps me generate visuals and a library of possible imagery. I later manipulate and use this imagery in my composition. I then start playing around with typography to create the title art, and lastly, I begin playing with both.
What is your favorite part of being a graphic designer?
My favorite part of being a graphic designer is coming up with many visual solutions for any type of challenge. There are many ways to approach something, making it so interesting. Creating something that people can relate to and create that buzz to want to come to watch a production is pretty neat.
Francisco Delgado has been with Alley Theatre for seven years. His passion of graphic design is rooted in welcoming audiences with storytelling elements.
---
American Mariachi runs from September 22 through October 22.