How The Alley uses Language Justice to Connect With its Community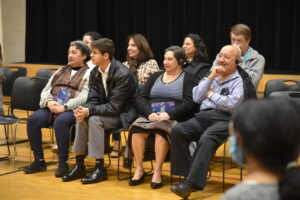 Houston is a city that is more than 45% Hispanic. There are many social and economic barriers prevent these residents of all ages from feeling welcome inside Houston's major arts institutions. Those working in the community are reminded that there are few opportunities for Houston's Hispanic community to communicate in-depth culturally-specific theatrical expression. 
Thus, Alley Theatre launched its El Zócalo initiative in 2017. It started with the visiting touring production of Misa Fronteriza from Monterrey, Mexico. El Zócalo is Spanish for "town square". This cornerstone initiative fills this void by creating Hispanic programming. America's rich Hispanic legacies inspire the programming. This commitment by the Alley has seen immense growth and impact in its first five years. This work expands the presence of Spanish in its physical spaces. The Alley includes Spanish in its marketing, programming, and on-stage to welcome the Hispanic community.  
"Language Justice" is a powerful way to describe individuals' fundamental right to have their voices heard. Houston is the 4th largest city in the United States. It has the third-largest Hispanic population in the US. 38.94% of Houstonians speak Spanish. The Alley continues to connect with its community with its Language Justice program.  
Alley Theatre's Language Justice initiative aims to "in-reach" through increased Spanish language in all spaces. It is seen in marketing and communications. This includes specialized campaigns with Spanish-language media, creating a welcoming atmosphere. Bilingual signage and Spanish-speaking Guest Services staff, and Spanish language materials and events such as simultaneous translations for select performances are all included in this initiative.  
Alley Theatre's goal is to nurture long-term relationships with community members at multiple engagement levels, creating space for Hispanic artists and community members to share their stories, explore their heritage, and form meaningful connections that bridge the class and cultural divide.   
---
Los hispanos de Houston representan más del 45% de la población de la ciudad. Debido a las barreras socioenomicas, varios residentes no se sienten bienvenidos dentro de las instituciones artísticas de nuestra ciudad. En realidad, son pocas las oportunidades que la comunidad hispana tiene para disfrutar el teatro profesional.  
Alley Theatre lanzó su iniciativa El Zócalo (EZ) en el 2017 con la producción de Misa Fronteriza, una producción visitante de Monterrey, México. La iniciativa de El Zócalo es un paso más para resolver la ausencia de la comunidad hispana dentro las instituciones de arte de Houston. La iniciativa crea programación hispana inspirada en los profusos legados hispanos dentro de los Estados Unidos. En sus primeros cinco años, esta iniciativa ha presenciado un inmenso crecimiento e impacto. El siguiente paso crucial fue ampliar la presencia del idioma español. Esta expansión estará presente en nuestros espacios físicos, nuestra mercadotecnia y programación ayudando a dar la bienvenida a la comunidad hispana.  
"Justicia lingüística" es una excelente manera de describir el derecho fundamental de escuchar el idioma nativo de una comunidad. Houston es la cuarta ciudad más grande de los Estados Unidos y cuenta con la tercera población hispana más grande. El 38.94 % de los habitantes de Houston hablan español. El programa de Justicia Lingüística de Alley Theatre está creando conexiones importantes con la comunidad. Nuestra iniciativa de Justicia Lingüística tiene como objetivo "estar al alcance" a través de una campaña de mercadotecnia en español. Esto incluye campañas con medios de comunicación en español, crear un ambiente acogedor a través de servicios bilingües para huéspedes y personal de la recepción, y señalización de edificios. También, proporcionamos recursos en español como traducciones simultáneas, programas, guías de recursos y entrevistas. 
El objetivo de Alley Theatre es fomentar las relaciones a largo plazo con los miembros de la comunidad en múltiples niveles de participación, creando oportunidades para que los artistas hispanos y miembros de la comunidad compartan sus historias, exploren su patrimonio, y formen conexiones significativas que superen la división cultural y social que a menudo existe entre "barrios" separados.