The Artistry of Backdrops: A Scenic Artist's Perspective on the Spectacular Backdrop in Agatha Christie's The Murder of Roger Ackroyd
By Alley Theatre's Assistant Charge Scenic Artist Christie DeBacker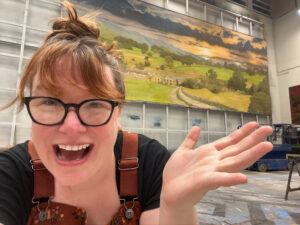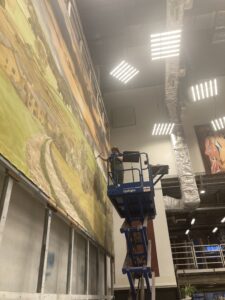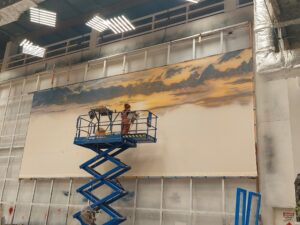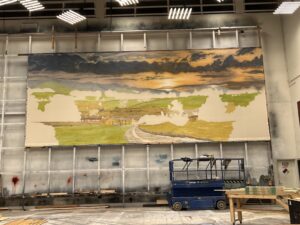 This is an exciting time for backdrops at Alley Theatre. The last three shows, including Agatha Christie's The Murder of Roger Ackroyd, have all included hand-painted backdrops. We take turns painting them between the three full-time artists and for Roger Ackroyd, it was my turn. This 40×16-foot sky and landscape took me about 20 days to complete.
It is a bit frightening when taking on such a large project, especially by yourself. This backdrop in particular had some factors that made it difficult. The entire drop is translucent. This is a special way to paint a drop so that it can be lit both from the front and the back to create different lighting effects. I painted it using two different techniques. The sky section was sprayed using an air-powered paint sprayer, while the landscape was painted using traditional scenic artists' brushes, called fitches.
Before I could even paint the drop, the fabric had to be prepared. We ordered the drop from Rosebrand, a theatrical supplier, that has the ability to create very large seamless pieces of muslin fabric special for making backdrops. They cut the fabric to size and finish all the edges for us at their warehouse. Back in our scene shop, we square and apply two coats of starch to the drop using a large garden sprayer and a broom. As the starch dries, it will tighten the weave of the fabric, making it easier to apply paint and keep the fabric square.
We use a vertical frame to paint drops, which means this entire drop is suspended on the wall about 30ft from the ground. I hang a string grid over the drop dividing it into 4×4 foot squares. This grid matches a grid we draw on the Scenic designer's rendering, which is a picture of what the finished piece should look like. Then I sketch design guidelines using charcoal onto the drop, a process called "cartooning." Once that sketch is complete and I remove the string grid, I am finally ready to paint.
I premix a palette of colors using special scenic paint that is designed to be mixed with large amounts of water and still remain pigmented. First, I worked on the sky, spraying the different colors from lighter to darker, and once that was complete, I moved to the landscape. I start by laying in larger blocks of color first and then gradually layer in more and more detail until the backdrop is complete.
It's a lot of work, but this traditional method is well worth the work when you see how the backdrop can transform a stage.
About the Author and Artist:
Christie is a Scenic and Visual Artist from Round Rock Texas. She serves as the Assistant Charge Scenic Artist at Alley Theatre. You may remember her previous painting of the backdrop from last year's Summer Chill's production of Clue, or the ground cloth for 72 miles to go… Her installations have been featured around town including at the George R Brown Convention Center. She holds a BFA in Theatre from Sam Houston State University.
Agatha Christie's The Murder of Roger Ackroyd runs July 21 – August 27 at Alley Theatre.