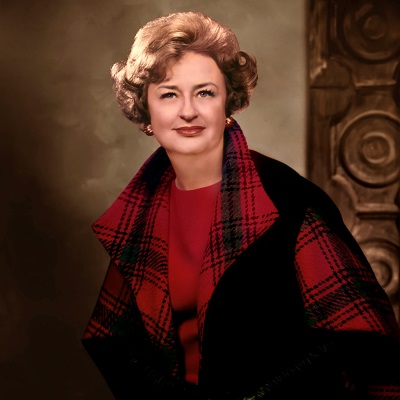 Nina Vance
1914 – 1980
Visionary, Founder, Innovator
It's beginning! Do you want a new theater for Houston?"
With these words, handwritten on 214 penny postcards, Nina (pronounced Nine-a) Vance began, on October 7, 1947, the process that would soon result in the creation of the Alley Theatre.
Through the early 1940's, Nina Vance, by day a high school drama teacher, had been helping out at Houston's The Little Theater as a volunteer, getting the props, doing walk-on parts, and helping with the box office. Taking a leave in 1946 from her San Jacinto High School teaching position, Nina began to direct plays for the Jewish Community Center. "At the JCC, I was associated with Bob and Vivien Altfeld. Bob had been trained as an actor, and Vivien wanted to be an actress." Often joining the group was an even more influential friend, Sidney Holmes. "They all gathered around and said 'you know, why don't we start a theater?' (Meaning, why don't YOU?)"
Intrigued and excited, Nina realized she had to let people know about the idea of a new theater, so she reached into her purse, found $2.14 and purchased the now legendary 214 postcards.
So, on October 7 more than 100 respondents to her postcard met at 3617 Main to discuss a new theater. The turnout exceeded all Nina's expectations. "It was all very democratic. You paid a dime and became a voting member." When the question of what to call the new theater was raised, Actress Rita Cobler looked at their surroundings and the narrow path leading to the building and suggested "The Alley." The name was accepted unanimously. "In the excitement, I didn't mind it much that night," recalled Nina. "But I was shocked to see it written in the next day's papers. I think I had subconsciously imagined some rather grand name."
Born in Yoakum in DeWitt County, Texas, Nina graduated from TCU and then trained at University of Southern California, Columbia University and the American Academy of Dramatic Arts. Returning to Houston, she taught drama at Jefferson Davis and San Jacinto High Schools in Houston, explaining, "There's always been a strong force of the teacher in me."
Nina found her first play for the new theater at the library, the war play, A Sound of Hunting. She resisted the advice of those who pressed her to do a comedy. Opening night, November 18, 1947 was tense. About 80 people, who had each paid $1.50 for a ticket, crowded onto wooden chairs, with some seated on the piano and on the radiators in the back room of an apartment building at 3617 Main. The next day, the Houston Post's critic wrote what would prove to be understatement, "the city has brought forth another interesting and hopeful theater experience."
Her triumphant February 8, 1949 production of Lillian Helman's The Children's Hour crystallized her realization that Houston theater audiences wanted and appreciated mature, thought-provoking theater experiences. When the show ended and the cast came out to bow, the applause was overwhelming. After the applause finally ended, Nina stepped forward on stage and said, "This is your theater."
The question of pay at the Alley was vague from the start. Initially, no one was paid. The first year, only two people received pay: the janitor and a fulltime office manager. When, at the end of that first year $750 remained, Nina took that as her year's salary.
But by the middle of 1952 a storm was brewing. The theater was still run by members – each of whom still paid 10¢ to have a vote in the theater's future – and was staffed by volunteers, in the office and on stage. But, as the schedule of productions increased, it became harder to fill men's roles and to find volunteers. At a tense vote, the board gave Nina full control to run the theater, both artistically and financially. This meant she could pursue her plan to have a full time director and to pay actors – not just local, but from anywhere, the only requirement being that they were good.
The Alley's first paid actor was Clarence Cavenaugh, appearing in Robert Ardrey's Thunder Rock. The first name star, Albert Dekker, perhaps best known for his film roles in Dr. Cyclops and Among The Living, appeared in the 1954 production of Arthur Miller's Death of a Salesman. According to Nina, "I was shaking like a leaf when I asked him." The Play House, an Equity (union) house complained about an Equity member performing with non-Equity actors in a non-Equity production. In response, Nina contracted Jimmy Jeter, Maggi Denney, and other Equity actors, in 1954. This move signaled the transition from an amateur to a professional company.
Nina's accomplishments as both a director and actress were gaining recognition in important theater circles. In 1952, Brooks Atkinson, theater critic for The New York Times, came to see this regional theater group with the odd name perform Strindberg's Miss Julie. He later wrote, "the Alley performance is discerning, neatly balanced and attractive." Tall, clear complexioned and striking, with short dark hair, Nina was singled out as "a smiling, able, vivacious young lady with a passion for drama."
By the Alley's 11th anniversary season, Nina celebrated the Alley's remarkable production of Giraudoux's The Madwoman of Chaillot, declaring the Alley to be probably the only theater outside of New York to operate year-round – a tradition that enabled the Alley to maintain its professional company, and one that is upheld to this day.
The vice president of the Ford Foundation in the 1950's proclaimed the Alley as "the most significant professional theater outside of New York." Nina was heard saying "I clawed this theater out of the ground." When, in 1959, the Ford Foundation awarded the Alley a $156,000 grant to assist in the building of a resident ensemble of actors, it was proof of the success of her vision and her tenacity. In May 1962, Houston Endowment, the charitable trust established by the late Jesse H. Jones and Mrs. Jones, donated one-half block of land, the location for our current theatre.
For all her gregarious ways, Nina Vance was a private person. Her health had been suffering, but she had kept the seriousness of her condition from everyone, even her staff and supporters. Then, on February 16, 1980, newspapers in Houston and around the nation announced the death of Nina Vance, finally separating the theatre and the woman who had birthed it and shepherded it through its formative years. In passing, she had finally relinquished control of the theatre, but had focused its mission, sparked its vitality and assured its future.
Now, as we live her vision, it is with a great sense of pride and purpose that we echo Nina Vance's words: "This is your theater."
Artistic Milestones
Tennessee Williams comes to see the Alley's production of his play The Rose Tattoo, 1953
Acclaimed Broadway Director Alan Schneider stages Waiting for Godot, September 1959
London's National Theatre sent actress Maggie Smith as an emissary for Opening Night, when the Alley opened November 26, 1968.
Paul Zindel, The Effect of Gamma Rays on Man-in-the-Moon Marigolds, 1965
Performed off-Broadway and received the Pulitzer Prize in 1971
Mikhail Rochin's Echelon translated by Michael Henry Helm, 1978
The American premiere was restaged by Galina Volchek, artistic director of the Sovremennik Theatre in Moscow, a first-ever for this type of project.
Distinctive Honors
Founding member of The Theatre Communications Group, a service organization of professional regional theatres, 1961
Served on President John F. Kennedy's Advisory Committee of the National Cultural Center, 1961
Appointed by Secretary of State Dean Rusk to the advisory committee on the arts, part of the U.S. Advisory Commission on the International Education and Cultural Affairs, 1961
Presented with an honorary doctor of letters degree by The University of St. Thomas, 1969
Received a special "Artistic Director's Discretionary Fund" prize from the Andrew Mellon Foundation, 1974
One of eight American directors invited by the U.S. Department of State and the Russian Ministry of Culture to observe Russian Theatrical production in Moscow and Leningrad, 1977