Alley Full View: Dreaming Design
It takes a lot of logistical wrangling to execute scenery, costumes, lights, and sound. The Alley All New Festival gives playwrights an opportunity to develop work without the distraction sometimes posed by full-scale productions. But writers can learn a great deal from the design process! For Alley Full View, our workshop playwrights collaborated with scenic designers to produce conceptual designs exploring what fully-realized productions may look like in the future.
DESIGNER Michael Locher ON his CONCEPTUAL DESIGN FOR THE JANEIAD BY ANNA ZIEGLER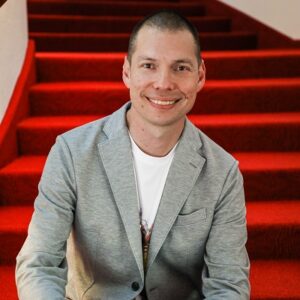 Jane, the grieving woman at the center of The Janeiad, ostensibly lives in the Brooklyn brownstone home she once shared with late husband. Anna Ziegler's play, however, seems invite a more liminal and suggestive setting. Grappling with the incomprehensible, inescapable fact of her husband's death, Jane seems both unmoored and arrested: as years pass, she neither moves on, nor does she rest. As The Janeiad uncoils, the environment we share with Jane assumes the contours of a dream, defined by thought – and perhaps most of all – by absence.
In that spirit, we turned to Hades itself for inspiration: not the nightmarish hellscape of some mythologies, but the contemplative sanctum often described in classical Greek literature (to which The Janeiad is indebted). In that tradition, the underworld is a shadowy subterranean meadow bound by melancholy rivers – a place visited by Odysseus himself, where he memorably encounters the spirits of former comrades and commanders. Pondering this, I was struck by a haunting quote attributed to a passenger aboard American Airlines Flight 11. Communicating to her husband via cell phone, the woman attempted to ascertain where the doomed plane was heading: "I see buildings and water," she calmly intoned, as the plane maneuvered over Manhattan.
In this sketch, the Alley's Neuhaus Theatre becomes a nod to Jane's own descent, if, unlike Odysseus or Orpheus, hers is only a journey through meditation. Chairs rest on or near a sheet of black water, pierced by stalagmites – or buildings? – while white plaster pieces of a familiar Brooklyn home loom like fragments of a temple.
CONCEPTUAL DESIGN for THE JANEIAD BY ANNA ZIEGLER