Mariachis: The Evolution of Charro Suits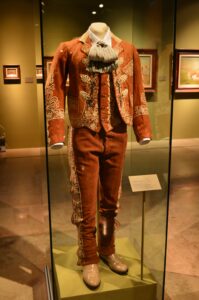 When you think of mariachi music, one image that likely comes to mind is the iconic charro suit. These vibrant outfits have become synonymous with mariachi culture. It may surprise you that mariachis didn't always don such glamorous attire. The evolution of the charro suit tells a story of social class, culture, and a merging of traditions. 
In the early days of mariachi music, musicians wore simple attire of white shirts, pants, and sandals. This clothing reflects the humble origins of mariachi as the music of the common people. Mexico's rural upper class wore the elaborate charro suit at that time. 
The transition to elaborate charro suits began when mariachis performed in public spaces. These places include plazas and markets. To gain attention, groups added a more vibrant and embellished look. Inspired by the attire of the upper class, mariachis adopted certain elements of the charro suit. 
The charro suit itself has roots in Spanish equestrian attire. It comprises fitted trousers adorned with buttons, a short jacket, an embroidered belt, ankle-high boots, a wide bow tie, and the iconic wide-brimmed hat. The charro suit allowed mariachis to embody a sense of elegance and pride. 
Today, the charro suit has become a staple of mariachi tradition, worn by musicians worldwide. While basic elements of the outfit remain the same, mariachi groups add unique colors and embroidery designs. 
The charro suit highlights the dynamic nature of mariachi music.  Its evolution shows mariachi's ability to adapt and blend diverse cultural influences. It symbolizes the pride and passion that mariachis have for their craft. So, the next time you witness a mariachi performance, take a moment to appreciate the history and cultural significance behind the vibrant charro suits that adorn these talented musicians. 
American Mariachi runs September 22 – October 22 at Alley Theatre.
---
MARIACHIS: LA EVOLUCION DEL TRAJE DE CHARRO
Cuando se piensa en la música de mariachi, una imagen que probablemente viene a la mente es el icónico traje de charro. Estos trajes se han convertido en sinónimo de la cultura mariachi. Puede que te sorprenda saber que los mariachis no siempre han llevado un atuendo tan glamuroso. La evolución del traje de charro cuenta una historia de clase social, cultura y fusión de tradiciones.  
En los inicios de la música de mariachi, los músicos vestían un atuendo sencillo de camisa blanca, pantalones y huaraches. Esta vestimenta refleja los orígenes humildes del mariachi como música del pueblo llano. En aquella época, la clase alta rural de México vestía el elaborado traje de charro.  
La transición a los elaborados trajes de charro comenzó cuando los mariachis se presentaban en espacios públicos. Estos lugares incluían plazas y mercados. Para llamar la atención, los grupos añadieron un aspecto más vibrante y adornado. Inspirados por el atuendo de la clase alta, los mariachis adoptaron ciertos elementos del traje de charro. 
El traje de charro tiene sus raíces en el atuendo ecuestre español. Se compone de pantalones ajustados adornados con botones, una chaqueta corta, un cinturón bordado, botines, una pajarita ancha y el sombrero grandioso de ala ancha. El traje de charro permitía a los mariachis encarnar un sentido de elegancia y orgullo.  
Hoy en día, el traje de charro se ha convertido en un elemento básico de la tradición del mariachi y lo llevan músicos de todo el mundo. Aunque los elementos básicos del traje siguen siendo los mismos, los grupos de mariachis añaden colores y bordados únicos.  
El traje de charro resalta la naturaleza dinámica de la música de mariachi.  Su evolución muestra la capacidad del mariachi para adaptarse y mezclar diversas influencias culturales. Simboliza el orgullo y la pasión que los mariachis sienten por su pasión al arte. Así que la próxima vez que asista a una presentación musical de mariachis, tómese un momento para apreciar la historia y el significado cultural que hay detrás de los trajes de charro que adornan a estos músicos talentosos.