By Miranda Keating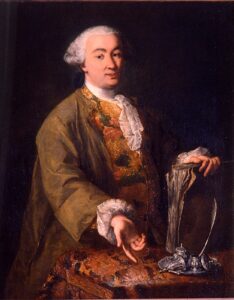 Carlo Osvaldo Goldoni (1707-1793) was a Venetian playwright, renowned for his witty and observant comedies inspired by the commedia dell'arte tradition. Born in 1707 to a middle class family, Goldoni initially studied (and briefly practiced) law before becoming a playwright. Even during his office hours, he managed to sketch out scenes and subjects for comedies.
Goldoni was forced to leave Venice in 1733 in order to escape financial pressure and an undesirable arranged marriage. Eventually, he ended up in Milan with hopes for a successful production of his musical drama, Amalasunta. The play was rejected, and in his disappointment, Goldoni threw his manuscript into a fireplace and returned to Venice. He didn't find his first success until 1734, when his historical tragedy Belisario premiered at the Teatro San Samuele. Based on the success of this production, the owner of the Teatro San Samuele entrusted Goldoni with the direction of his second theater, the Teatro San Giovanni Crisostomo. During this time, Goldoni began experimenting with comedy when he wrote the principal scenes of A Man of the World for Antonio Sacchi, the brilliant Arlecchino performer.
In 1743, Goldoni wrote what is now regarded as his comic masterpiece: The Servant of Two Masters. The play was initially conceived as an improvised comic scenario (more typical to the commedia dell'arte tradition), which Goldoni later expanded into a more concrete script. This innovation was hugely influential in the trajectory of theatrical comedy, which until that point had been largely improvised. Eventually, Goldoni eliminated the traditional masks used in the commedia dell'arte, placing eighteenth-century comedy on a more equal footing with other genres. Of all of Goldoni's plays, The Servant of Two Masters has been the most frequently produced in both the U.S. and England.
The totality of Goldoni's work is comprised of 5 tragedies, 16 tragicomedies, and 137 comedies. In addition, he wrote 57 scenarios for the actors of the commedia dell'arte, 20 intermezzi for musical theater, 13 dramas, 55 libretti for song-plays and opera buffas, and 3 musical farces.