Unmasking the Laughter: The Importance of Commedia dell'arte Masks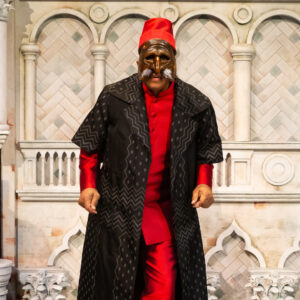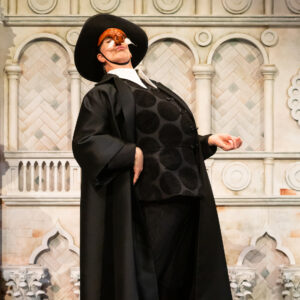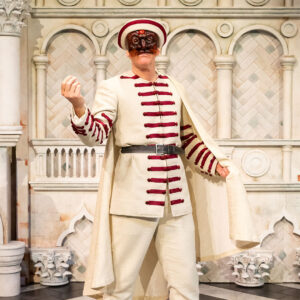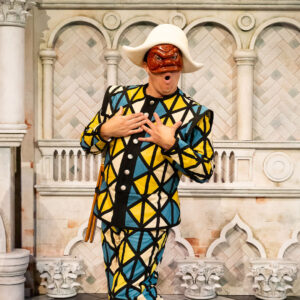 In The Servant of Two Masters, commedia dell'arte masks take center stage. These masks add a unique layer of charm and character. In our production, the masks are worn by Pantalone de'Bisognosi, Dottore Lombardi, Brighella, and Truffaldino. These masks are hand-crafted from wood and leather by the talented Antonio Fava.
These masks serve as visual representations of the archetypal characters they portray. Each mask has distinct features that reflect the character's identity and traits. This allows the actors to fully embody their roles.
Pantalone, with drooping eyebrows, and wrinkled forehead, portrays the elderly merchant. The mask exaggerates and amplifies his cunning nature.
Dottore Lombardi, the pompous doctor, wears a mask that accentuates his bulbous nose and prominent forehead. This mask captures his self-importance and scholarly assertions.
Brighella, the quick-witted servant, dons a mask emphasizing his mischievous grin. This embodies the essence of his trickster persona.
Lastly, Truffaldino, the clever and bumbling servant at the heart of the play, wears a mask that reflects his wide-eyed innocence and comedic buffoonery. This allows him to charm the audience.
These masks add visual spectacle and serve as storytelling tools. The masks allow the actors to communicate their characters' emotions and intentions in a larger-than-life manner. In the theater, audiences could sit so far back that they may not see the subtle emotions on the actors' faces. Commedia dell'arte masks are easy to see from a distance, heightening the audience's experience. The masks transcend language barriers and cultural boundaries through the universal language of humor.
The masks bring the characters to life through Antonio Fava's artistry, capturing the essence of commedia dell'arte. Check out these hand-crafted masks in The Servant of Two Masters running until July 2!