Creating Victorian London with Scenic Designer Michael Locher
One of the great joys – and challenges! – of designing for theatre is the occasional opportunity to tackle a story, setting, or play that feels iconic. Designers are often tasked with introducing audiences to places they've never seen before, but sometimes, we're invited to conjure the eminently familiar. Few settings and stories feel more familiar than Victorian London and A Christmas Carol. Charles Dickens, after all, is widely credited as the man who helped cement modern Christmas traditions in the west, and he did so largely through the imagery of stories like this one.
London is a wonderfully iconic city, of course, and the many engravings and photographs of its buildings throughout history serve as a starting point. From there, however, the process gets personal! A successful design for A Christmas Carol should generously lean into the rich nostalgia surrounding this piece of literature. Many who celebrate the holiday grew up with a favorite version of Dickens's story (I've always been equally partial to the 1984 film starring George C. Scott, and the Disney short featuring Scrooge McDuck!). Even when innovation is the goal, the team must be aware of what the audience expects, and in some cases, waits the whole year to see.
I wanted to provide a scenic design that worked in two essential, complementary ways.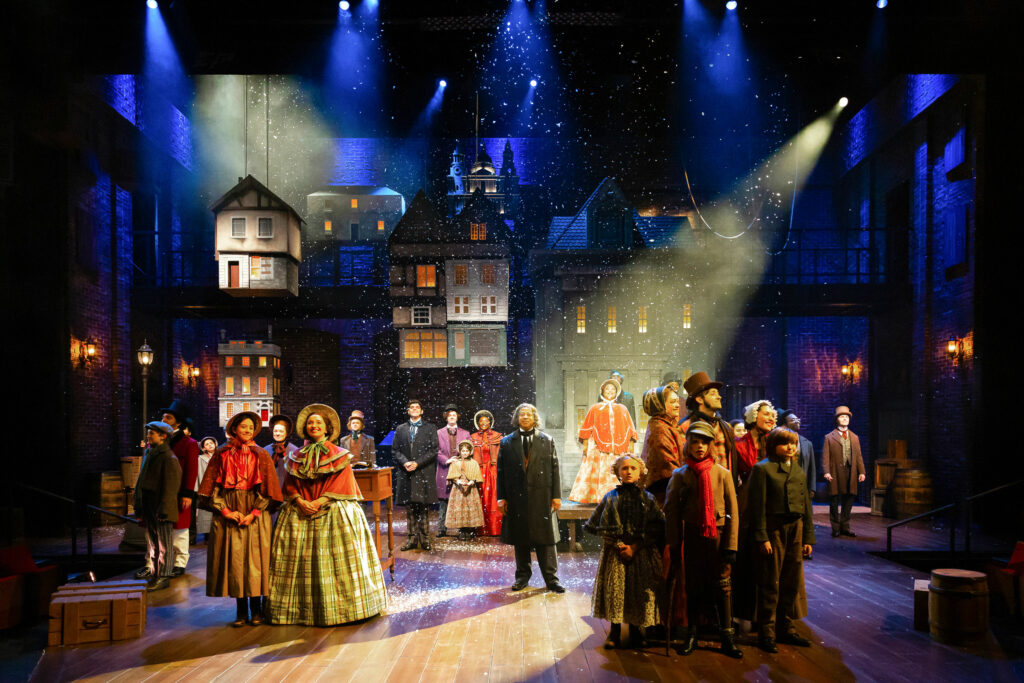 On one hand, our production aims to be magical and transporting. We created a soaring warehouse crammed with strange and fantastic things: suspended around the room and in overhead storage, a collection of small houses and buildings form a sort of floating panorama. When our players take the stage, the houses come to life, glowing from within, raising and lowering, and Dickensian London unfolds within the Alley Theatre.
The design is also meant to highlight the unique qualities of live theatre! It's tempting, at times, to use the stage as a sort of movie screen, presenting a story in cinematic terms, sweeping from one realistic vista to the next. I've tried to embrace a different strategy, allowing the narrative to unfurl within the unique confines of our "warehouse" set. Dynamic, transformative, and full of tricks, every inch of the space is part of the story. People and ghosts emerge from unexpected places; dollhouses open like jewel boxes, spilling their contents. In a sense, the warehouse becomes a metaphor for the theatre itself.
It's personally satisfying that A Christmas Carol can still delight and surprise after 179 years, and I'm thrilled to see my design take the stage. I hope you enjoy what we've created!
---
MICHAEL LOCHER (Scenic Design) is Alley Theatre's Director of Design and made his Alley debut with Agatha Christie's Murder on the Orient Express. Recent regional credits include productions for the Guthrie Theater, Oregon Shakespeare Festival, Repertory Theatre of St. Louis, Yale Repertory Theatre, and more. Michael's designs have been seen off-Broadway and at venues throughout New York and the Northeast. Michael served as a professor at San Jose State University for six years. Graduate: University of California San Diego, Yale School of Drama.