PAPERBACK READER: On The Joys Of A Christie Paperback
By Adaptor and Director Mark Shanahan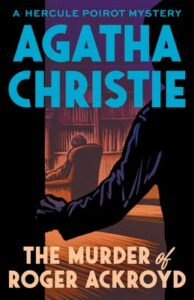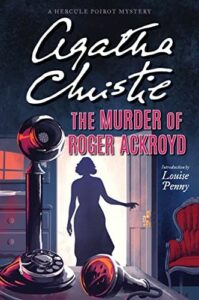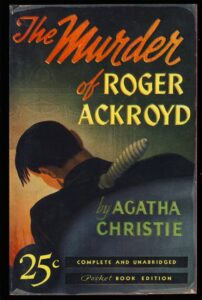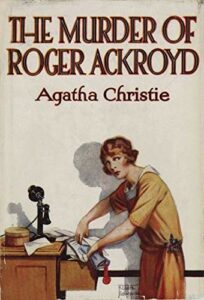 It's true you can't judge a book by its cover, but the cover of an Agatha Christie novel is often the perfect invitation to all that awaits you on the pages inside.    
And what covers they are! Plastered with illustrations of bloody knives, poisoned cocktails, smoking revolvers, country mansions, vintage cars, Egyptian pyramids, romantic locomotives, stolen jewels, freshly dispatched and oh-so-well-dressed corpses slumped in armchairs, and a host of mysterious suspects looking awfully guilty of something devious…perhaps even murder.   
I recall that summer when, as a teenager, I happened upon a cardboard box of Christie paperbacks at a yard sale and, enticed by the intriguing covers, bought the whole box for a song. Like so many of you, I spent a summer devouring those books one after the other, taking imaginary trips to exotic locations and puzzling over Christie's intricate plots. Once hooked, it's hard to shake her spell.  
Usually, Mrs. Christie's name on a cover takes up as much room the title itself. After all, isn't she really the star attraction? Though her books have been published in all forms, from serialized newspaper installments to handsome first edition hardcovers, I've always been partial to coming across her novels as paperbacks, found casually thrown into a backpack or lying about a bedside table. They're fun to collect and revisit, even if you know the outcome, and can be a welcome respite as a cozy comfort.  
Though the solutions to her mysteries are usually more than merely satisfying, I suspect that I have always cared less about "whodunit" than I do about the way in which Christie leads you to the conclusion of her tales. In her most classic stories, the author parades a colorful cast of characters before the reader and hides the clues to solving some wild crime in plain sight, often nestled amidst red herrings or delivered as a throwaway detail later revealed to be of colossal importance. Christie invites you to participate. She practically begs you to match wits with her, demanding you to consider the criminal potential which lies within us all. Even as her books are great fun, they manage to send a little tingle down the spine.   
"I always play fair, with the reader" the author stated. And certainly, that is not to be argued. The mystery behind The Murder of Roger Ackroyd is laid out clearly and cleverly, and those final pages can still make a reader gasp with delight. I own several published editions of the book these days, from fancy hard-cover copies to dusty older printings to versions in languages I can't even speak or read. But I'll always treasure that first little paperback with Ackroyd himself depicted on the cover, done in by a Tunisian dagger.   
The first time I read The Murder Of Roger Ackroyd was one of the great reading experiences of my life. As soon as I finished it, I instantly went back to the first page and started to read it again, eager to study how the author had managed such an astounding feat of suspense and surprise. There's no way to recapture that thrill after the initial reading, but over the years it's been a pleasure to hand someone the book as a gift and invite them to share the experience I once enjoyed. Adapting it for the stage was a labor of love as I attempted to honor the book while making it something uniquely theatrical. It has been a great joy in rehearsal to see Christie's characters spring to life onstage in the form of the Alley's Resident Acting Company.   
Perhaps, if you like our play, you'll decide to go to the bookstore and pick a Christie off the shelf, preferably the one with an appealing cover. Curl up in bed with it, chip away at a chapter over a lunch break, or feast on it as you travel, pretending to be aboard the Orient Express or a riverboat on The Nile. Dame Agatha will keep you in good company.  
And when you're done with your paperback, pass it along. We could all use a good, old-fashioned summer chill.   
In the meantime, we look forward to seeing you at the theatre! 
Agatha Christie's The Murder of Roger Ackroyd runs July 21 – August 27 at Alley Theatre.