The Casting Process of Agatha Christie's The Murder of Roger Ackroyd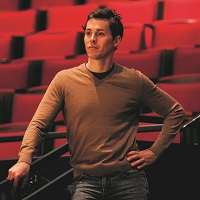 We sat down with Associate Producer & Casting Director Brandon Weinbrenner to talk about the casting process for our Resident Acting Company for our upcoming Summer Chills show, Agatha Christie's The Murder of Roger Ackroyd. This is what Brandon had to say about the process to cast this marvelous story!
1- What did you consider when selecting actors from the Resident Acting Company for this production?
Our director Mark Shanahan knows our Resident Acting Company well, as his work at the Alley spans two decades. So, he did a lot of the Resident Acting Company casting himself, leaning into their classic murder mystery chops. There were some actors in the company he didn't know, such as Melissa Molano and Christopher Salazar, so we looked at the roles we still needed to fill and the types of roles Molano and Salazar have played previously to help find what roles they would most excel in. 
2- The play has unique characters with specific traits. What quality from each actor made you know they fit the role?
When casting the RAC [Resident Acting Company], we look at what roles they will really shine in as well as what roles might provide challenges for them. We don't want one actor to always play the "hero" or the "villain," we like to switch them around. At the same time, we know that some actors are great at specific things, so we hate to deny them roles they are so well suited for. 
3- What specific challenges are unique to casting within the Resident Acting Company?
Our Resident Acting Company are all staff members at the Alley. They get paid year-round just like all of our full-time staff. So, when planning a season, we have to look at the tracks for each actor, to make sure their roles are dispersed throughout the season. We try to divvy out the line load and give them times to lead a show, support in a show, etc. Creating this balance amongst nine exemplary actors is the trickiest part. 
4- How does the casting process work when you have a Resident Acting Company? Are outside actors contacted or is there a public audition notice?
We hold Open General Auditions every spring. This is when any Houston actor can sign up for a 3-minute audition. From there, we put all the actors seen into our database, and we call upon this database when we look at specific roles we need to fill. And we always have roles to fill! I personally contact the actors we'd like to see to submit to a first audition. The director (and sometimes the playwright) review all the auditions. Then, we narrow the field down to those actors we'd like to see in callbacks. From there we identify the actor we want for the role and make an offer! 
The cast of Agatha Christie's The Murder of Roger Ackroyd includes Alley Theatre's Resident Acting Company members Elizabeth Bunch as Caroline Sheppard, Dylan Godwin as Ralph Paton, Shawn Hamilton as Roger Ackroyd, Melissa Molano as Flora Ackroyd, Melissa Pritchett as Miss Helen Russell, David Rainey as Inspector Raglan, Christopher Salazar as Dr. James Sheppard, and Todd Waite as Parker.
The Resident Acting Company will be joined by Brandon Hearnsberger as Major Hector Blunt, Susan Koozin as Gertrude Ackroyd, David Sinaiko as Hercule Poirot and Skyler Sinclair as Ursula Bourne.
Agatha Christie's The Murder of Roger Ackroyd runs July 21 – August 27 at Alley Theatre.