The Man Behind Hercule Poirot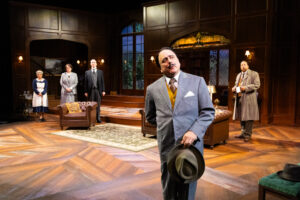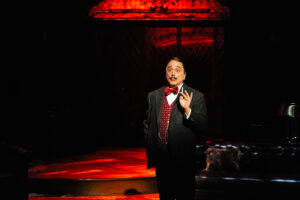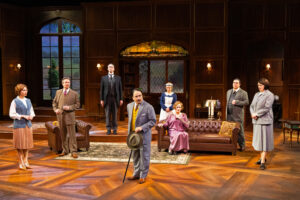 It's truly a privilege as an actor to have the opportunity to play the iconic character Hercule Poirot here at the Alley. I am so thankful to be back here doing it again. This is a role that some of the greatest actors I know of have relished playing – Albert Finney, Orson Welles, Ian Holm, and John Malkovich, to name just a few. Poirot is iconic because Agatha Christie, in her genius, created a character with a Sherlock-Holmes-like superpower of deduction, but with his own distinct style, manner, and being. Whereas Holmes is a phenomenal intellect – a human encyclopedia of knowledge and instinct, Poirot possesses an otherworldly understanding of human nature, motive, psychology, and the power of desire to drive behavior – especially murderous behavior. So, playing a character with that kind of super-awareness and skill is a gas.
But that is only part of his appeal to an actor and audience. The other thing Christie does is to make him an 'outsider' in the settings in which the mysteries he solves take place – often among British characters. Poirot is a French-speaking Belgian man, originally in England as a refugee during World War 1, and the English characters often treat him as a strange, trivial foreigner. He is diminutive (described as 5'4″) and highly particular and stylized in his appearance – his manner of dress, his mustache, and his neatness. This brings dimension to the character in several ways. It emphasizes his intense precision and rigor. It also disguises his bulldog-like drive for the truth and prodigious powers of deduction behind a mask that appears non-threatening, and even silly, to the people he is examining.
By being "other-ed" and underestimated by everyone around him, he uses method and control to get people to reveal themselves to him. This, along with his keen observations and meticulous approach, peels back the layers of the mystery. Our Adaptor and Director, Mark Shanahan, sees him as having an almost Puck-like quality. He is two or three steps ahead of everyone else and outwits them without them even knowing it is happening until it's too late. Funny as it sounds, there is a Poirot-like element in Peter Falk's classic television detective Columbo – though he is the inverse, wearing a rumpled and seemingly-disorganized mask.
Returning to the Alley is a true delight, and I am grateful to be here. The artists, designers, technicians, crews, and staff are all at the top level in their fields. And they are friendly and generous, to boot! The commitment to the work and making the best product imaginable is top-notch.
My first time working at the Alley as Hercule Poirot was in Agatha Christie's Murder on the Orient Express. I came on late in rehearsals as a replacement actor when the eminent James Black had to step away. While one never wishes for a circumstance like that to happen, it was a unique experience for me to get a script I'd never seen and jump into rehearsals the next day – almost 2000 miles away. It ended up being a very positive experience for me, and I was hopeful I'd have another chance to return for more Summer Chills. Then that pesky pandemic happened, and we all shut down indefinitely. Which has all gone to make this current stint at the Alley all the sweeter – getting to work again with the wonderful, talented resident company, meeting and working with Mark Shanahan on a world premiere adaptation of one of Dame Agatha's most famous works, and getting to play a fabulous, iconic character who is quirky, funny, brilliant, a little dangerous, and (most fun of all) solves the mystery every night! What a gift!
Agatha Christie's The Murder of Roger Ackroyd runs Now through August 27 at Alley Theatre.