Who was Agatha Christie: A Woman of Mystery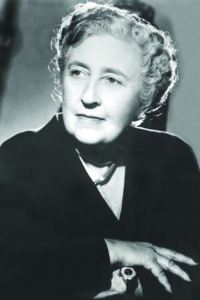 When you hear Agatha Christie, you immediately think of whodunits. Christie is a legend in the genre for her captivating plots and iconic characters. She writes just enough clues to make the audience think they have solved the mystery right before serving a dazzling plot twist. For almost 100 years, people still read, perform and adapt Christie's works. Our upcoming new adaption of Agatha Christie's The Murder of Roger Ackroyd continues that tradition.
Agatha Christie was born in Devon, England on September 15, 1890. As a child, she had a vivid imagination and a talent for storytelling. As a mystery lover, William Collin's The Woman in White inspired Christie's works. Over 100 years ago, in 1920, Christie wrote her first novel, The Mysterious Affair at Styles, featuring the beloved detective, Hercule Poirot. Christie wrote 66 novels and 14 short stories throughout her career with her last book in 1973. She died three years later.
Agatha Christie's impact on the world of crime fiction is truly remarkable. Her books have sold billions of copies worldwide, which makes her one of the biggest-selling authors of all time. You can't escape her influence on TV, film, and stage. With the countless adaptations of her works continue to entertain audiences. Get ready for Alley Theatre's production of Agatha Christie's The Murder of Roger Ackroyd to experience her brilliance in a new light!
Agatha Christie's The Murder of Roger Ackroyd runs July 21 – August 27 at Alley Theatre.